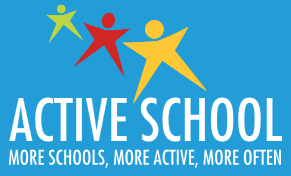 Physical Activity
We are very active in Scoil Bhríde (Cailíní). We have two yard breaks everyday. We have three zoned areas in our yard so everybody has lots of space to be active.
Active Yard
We introduced an 'Active Yard' at the beginning of our Active School Flag process. We have a timetable for activities throughout the week. The activities include- skipping, dancing, bean bags, hula hoops. This encourages all pupils to be active on the yard. Our Active Agents from the Active School Committee help with putting out equipment and organising our Active Yard. 
Run Around Europe
We took part in the Run Around Europe challenge in September. The girls in Sixth Class measured the perimeter of the yard, the astro pitch and the field. Every girl in the school went for a run each day. After each lap we got a lollipop stick so it was easy to keep track of how many laps you ran! After 597km, we reached our first destination which was London. We kept running and after 1073km we reached Paris. We really had great fun!
Run for Your Life!
After the huge success of our Run Around Europe challenge, we decided to keep running! We came up with our own running initiative called Run for Your Life. Each class runs for a few minutes at the beginning of each P.E. lesson. We also run at other times during the day. We say poems, sing songs, practise our tables and spellings etc while running. At the end of each week, one class will give us a report on their running over the intercom. 
Santa Dash!
We had great fun today and we were lucky that the weather was kind!
Everyone in the school assembled in the playground and on the ringing of Santa's bell, we all dashed around the yard for a full five minutes! 
What a colourful spectacle!. Great fun was had by all.
Olympics!
Rang a Cúig have been staying active! We organised our own class Olympics! We made an Olympic torch and ran through the school to launch our competition! We also made our own medals and used measuring instruments from the Maths room to organise our different event! After the Olympics, we held a medal ceremony complete with music!
Active School Suggestion Box
We believe that it is very important that every girl in our school has her voice heard. We have an Active School Suggestion Box. Any student can put her ideas into the box. We discuss the ideas at our Active School meetings.
Active School Scrapbook
Every class has an Active School Scrapbook.  We document any physical activity that we do at home or in school.